At Fyns Kran Udstyr A/S we do not have one dedicated QHSE-team.
Our management team and employees are all active parts in the quality assurance, ensuring and maintaining a good and safe working environment, as well as protecting the environment.
Since 2006, Fyns Kran Udstyr A/S has been certified in accordance with ISO 9001.
In the 1st quarter of 2022, we completed two more certifications, and we are now certified according to ISO 9001:2015, ISO 45001:2018 and ISO 14001:2015.
Quality
The good customer experience is the core of our quality management
This means, that we are focused on:
Customer feedback analysis

Monitoring our performance, including

Non-conformities (complaints and trends)

Monitoring our supplier performance

Quality control
We do not do it out of duty but for the value of it
The purpose of the implementation of quality management in Fyns Kran Udstyr A/S is to ensure that all working processes always supports our business strategy.
Also, quality management is a significant factor in our development and efficiency of daily routines, which is not only strengthening our customer focus but just as much our internal working environment.
The value is created through our focus points, which also include:
Risk management
Continuous review of workflows and systems (internal audits)
Management commitment and review
Health & Safety
Safety must always be first on the agenda
Therefore, every year we award a safety prize to one of our teams that has made a remarkable effort on this area.
We do safety walks and measure the efficiency of improvements, and we provide the same service to our own equipment as we offer our customers.
With safety comes health and well-being
Our health and safety management includes no less than 14 main processes and even more activities, which, in addition to safety, takes into account health and well-being.
We commit to the community
We are focused on the UN Worlds Goals and contribute to social responsibility by, among others, following applicable norm and legal requirements, and we require our supplier to do the same.
Environment
We take care of the environment
At Fyns Kran Udstyr A/S, we are aware of our most significant environmental impacts and how we can contribute to protecting the environment.
We always follow current norms and legal requirements, and continuously, we initiate new projects and goals within sustainable energy, climate efforts and responsible consumption and production.
Download our brochure about our Green Initiatives
We support: Environmentally friendly packaging
We show care for the environment. Together with other companies, we try to reduce packaging waste and thereby use less of the earth's resources.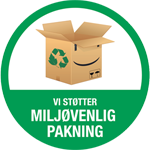 We work actively with green initiatives.
View more about it in this short video: