We've been in this business since 1969 where we have designed, produced and sold lifting equipment and carried out service and repair of lifting equipment and lifting gear - today we are one of the leading suppliers and we have service technicians all over the world.
Lifting equipment and lifting gear is the item which connects the burden to the lifting equipment. For example chain sling, round sling, webbing sling, chain hoists, lifting beams etc.
Documentation for test and service of lifting equipment
Every type of test and service needs documentation and registration. An attached label will inform about an ID number and you can find data and certificates documentating the test and service.

Our registration is unique and every item will be individually registred with an ID number and a unique QR-code. The attached label will show both last and next service date and is made in the official colour according official standards.
Test and service - which type of brands?
We carry out test and service at all types and models of cranes and lifting equipment - our service procedure is universal and is applicable at every type of brand. After each service you will receive documentation where you can see exactly step-by-step how we have carried out the service at the specific item. You will have access to all your documentation and data at each piece of your lifting equipment throug our EasyCert system via the individual label at each lifting equipment.

A few exampels at brands where we carry out test and service at lifting equipment:
Agon-Lifting
Alloy
Ancra ABT AB
Anello
Ansell Jones
Arno
BMM
Bravo (Tractel)
Brico
BSV
Bulldog
BUX
Carl Stahl
Certex
Charlet (Tractel)
Craemer
Crosby
Danløft
DE HAAN
DEHA
Elephant
Engskov
Excel (Van Beest)
Fyns Kran Udstyr
GERON
GN Rope Fittings
GreenPin (Van Beest)
Gunnebo
Hadef
Hajo
HEMA
Holmatro
HW
Indura
Ingersoll-Rand
IP (Crosby)
JDT
Johnson (Gunnebo)
JUNG
KITO
Kronberg
Liebherr
Masterlift
McKissick
Palan

Pell-Fant
Peter Harbo
Pewag
Pfeifer
Pitt Bull
PLM
Polezych
POWERTEX
Renfroe
R+K
RUD
SafeTBag
SF
SpanSet
Starcon
​Stas
Superclamp
Svero
TBM
Terrier
Theile
Tiger
Tirfor (tractel)
Tractel
Van Beest
Vitali
Yale
YellowLine
Yoke
Unique trucks for test and service
Our trucks are specially designed to carry out test and service for all types of lifting equipment. The truck have its own stock with different type of lifting equipment, working bench, tool, testing equipment and computer - all necessary items so the technician are able to carry our high quality test and service.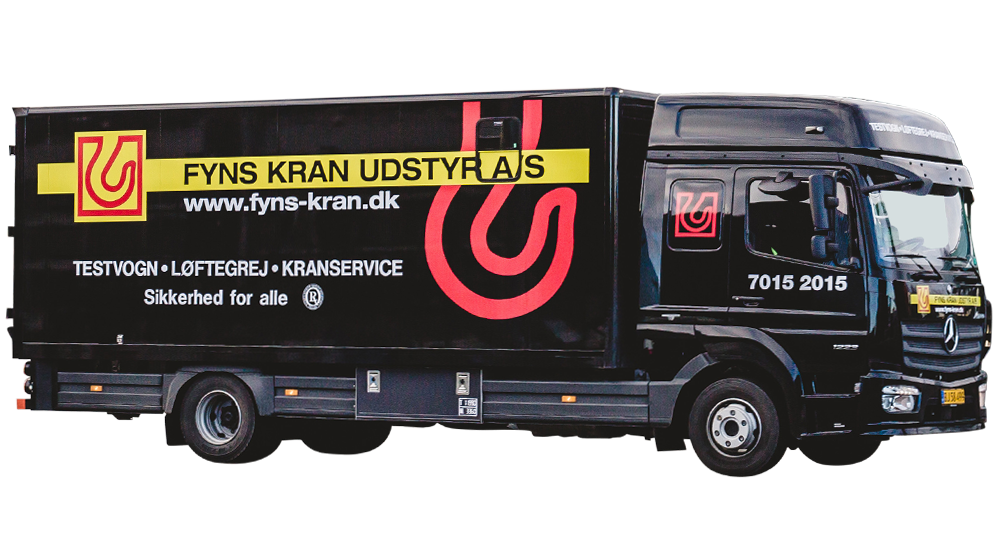 Magnetic Particle Inspection (MPI)
Magnetic particle Inspection (MPI) is a non-destructive testing process for detecting cracks and other defects in the surface and we test all types of chain slings for cracks and other defects and the inspection is carried out in the service truck. Besides chain slings we also use this testing method at hooks, master links, lifting beams etc. All our service trucks have testing equipment installed to carry out Magnetic particle Inspection (MPI).
Load Test
In our service trucks we have the possibility to carry out load test for e.g. lifting clamps. We follow the service test in our service management system EasyCert stp-by-step and we carry out load test with WLL + 25 % and all our service trucks have installed load test equipment. If some of the tested equipment need to be repaired we can take care of it right away in the service truck and if the defect is more complex we can bring it to our production and repair unit to take care of it.
Do you have any questions regarding test and service of lifting equipment?
You can call os now - you will get the best customer service, access to EasyCert and high quality test and service of your lifting equipment.